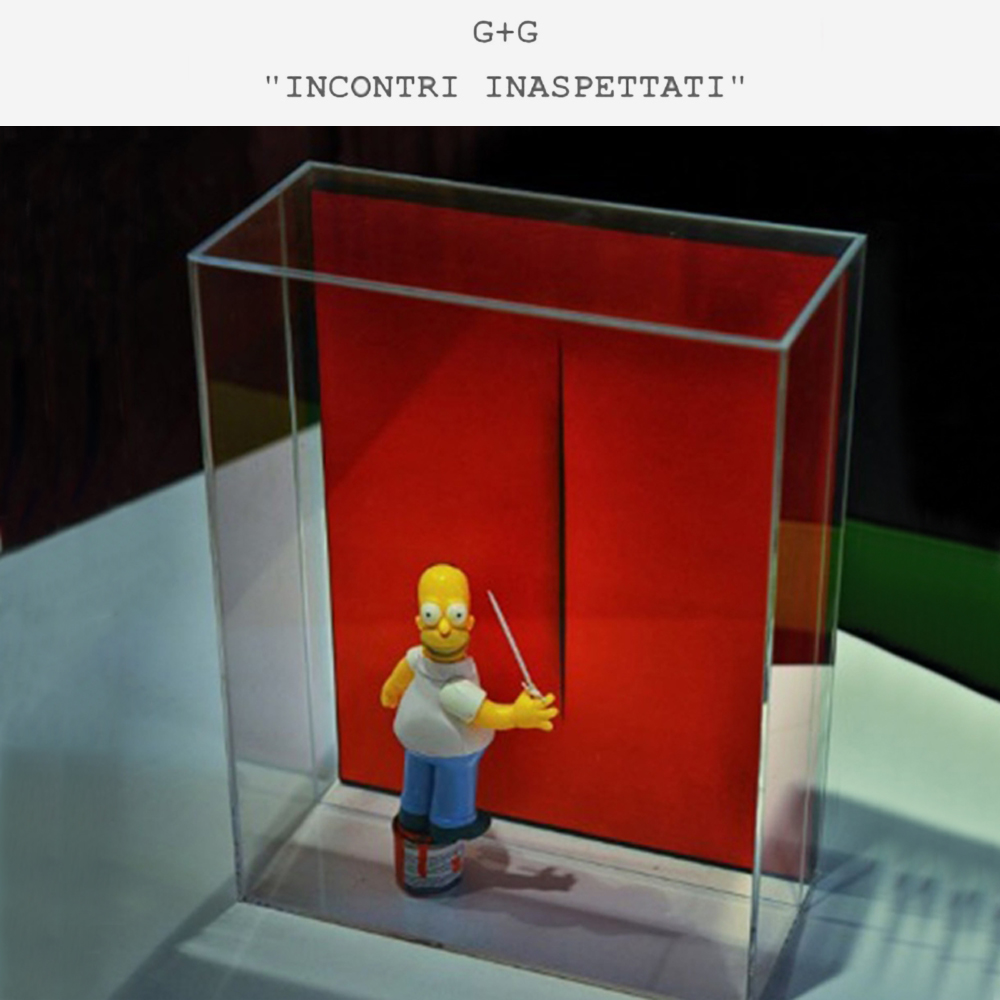 "…and I will uphold the values of lightness." Italo Calvino
In a time in which the noblest of values have been depleted by cynicism and inconsistent values are passed off as absolute truths, what is left to express love for art?
G + G suggest with delicate irony, the juxtaposition between the authority of the masterpieces and the carefree lightness of the most popular icons of our childhood: the cartoon characters break into the contexts of the great masterpieces like children into the lives of adults; their desire to play and to surprise creates a cheerful infiltration that upexpectedly shifts the composure of the works of art.
With ironic intelligence G + G create theatrical representations, almost opera buffa, in which from behind the fun their deep and passionate declaration of love for art shines through.
"…e sosterrò le ragioni della leggerezza." Italo Calvino
In un presente in cui i valori nobili sono stati svuotati dal cinismo e valori di cartapesta vengono spacciati per verità assolute, cosa resta per esprimere l'amore per l'arte?
G+G suggeriscono con delicata ironia, un confronto tra l'autorevolezza dei capolavori e la leggerezza spensierata delle icone più amate della nostra infanzia: i personaggi dei cartoni irrompono nella vita di grandi capolavori come i bambini nella vita di adulti; la loro voglia di giocare e di stupire crea un'allegra contaminazione che spiazza la compostezza delle opere d'arte.
Con ironica intelligenza G+G creano delle rappresentazioni teatrali, quasi da opera buffa, in cui dietro al divertimento traspare costantemente la loro profonda ed appassionata dichiarazione d'amore verso l'arte.
https://www.rossanaorlandi.com/wp-content/uploads/2015/12/Incontri-inaspettati-invito2-1000x1000-1.jpg
1000
1000
Rossana Orlandi
https://www.rossanaorlandi.com/wp-content/uploads/2022/04/RO-LOGO-OFFICIAL-2.1-sito-300x276.png
Rossana Orlandi
2015-12-02 18:34:08
2020-06-09 15:05:08
G+G - Incontri Inaspettati - December 2015